Bathroom Design
Designing the Perfect Bathroom
Make your throne room shine. The bathroom can easily be the busiest room in the house. Not only that, but it's often the place where we make ourselves presentable to the outside world: women with makeup, men with facial hair trimming, etc. This makes even, smooth bathroom lighting an absolute must! You can't look your best if half your face is in shadow. And what better way to complement your bathroom light fixtures than with stylish hardware, storage furniture and the accessories needed to give the space a personality? Here you'll find bathroom design ideas to transform your throne room from strictly functional to a place of comfort and style.
Read More
Begin with Bathroom Lighting
For the longest time, bathroom lighting has been largely confined to linear fixtures over mirrors and the occasional recessed light over the shower. But this selection of decorative lighting allows you to get creative with the placement of the light fixtures in your vanity. As bathroom decor has expanded, so have the options for vanity light fixtures, and now we have many more options, from mirrors with built-in lamps to paired pendant lights on either side of a vanity mirror to full-on chandeliers if you've got the guts (and the room) for it. You may also appreciate the understated beauty of a flushmount and although recessed lighting is a more ambient source of light, these fixtures will pair well with your other choices of lighting. With the right lighting in place, you'll enjoy getting ready in the morning.
Furniture & Furnishings Fit in the Bathroom Too
Bathroom decoration isn't all about the lighting. Elegant bathroom decor can be achieved through well-designed storage, shelving, stylish hardware and all of the accessories that help you get yourself going in the morning. Kartell's storage furniture is a go-to choice for contemporary organization in a space where cleanliness is critical. Vanity accessories like soap dishes, cosmetic mirrors and tissue boxes serve a functional purpose while highlighting the character of your bathroom. The right hardware is essential too. Consider installing towel racks, towel holders, toilet paper holders and wall racks to round out the look of the space. Most accessories and hardware from Blomus belong to larger product collections, making it easy to decorate the bathroom in one fell swoop.
Finishing Touches for Bathroom Design
There are other things to think about in bathrooms besides the lighting and furniture. A new set of towels and bath mats is a great way to refresh the room you have to visit at least a few times a day. Look to the bath mats and towels from Chilewich or Missoni Home to really add a noticeable element to your floors and towel racks. Finally, if you need a little help trying to figure out which light is right for your bathroom, you may want to take a look at our tips on how to choose bathroom lighting.
Show Less
Related Products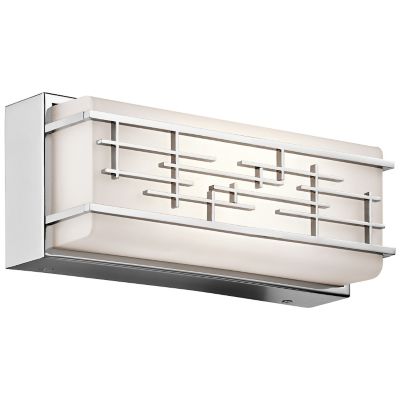 Reminiscent of the cubist movement, the Zolon LED ...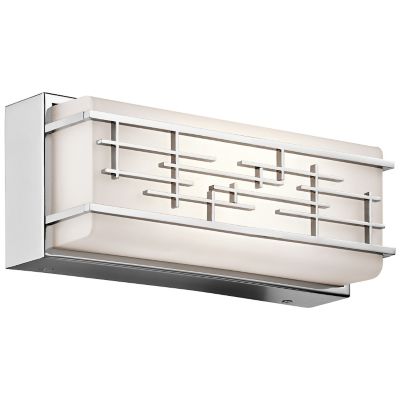 Description:
Reminiscent of the cubist movement, the Zolon LED Linear Bath Bar by Kichler features a front grid of geometric patterns over a Satin Etched White Glass shade. This dynamic accent (available in different finishes) serves as a beautiful point of ...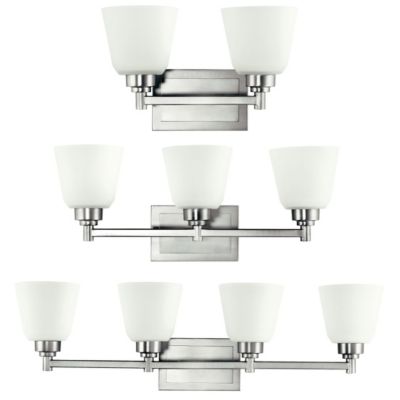 Invite the warmth of natural sunlight into the ...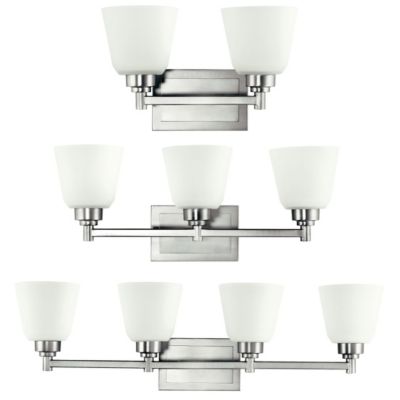 Description:
Invite the warmth of natural sunlight into the bathroom with the Kichler Berwick Bath Bar. Its glass shades gently diffuse light, creating that cozy sun-kissed feel. Paired with a soft contemporary finish, this fixture becomes a modern, welcomed host of ...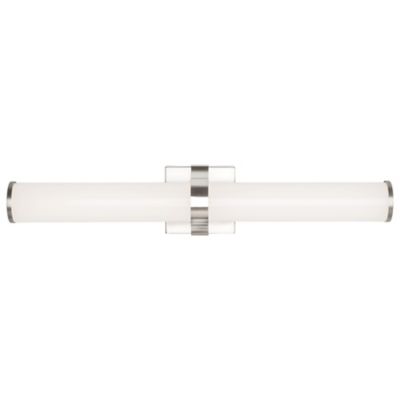 The sleek, modern design of the Lynk LED ...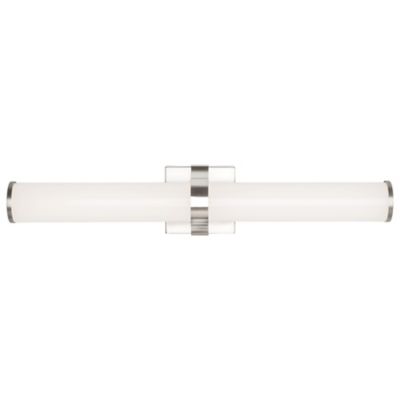 Description:
The sleek, modern design of the Lynk LED Bath Bar by LBL Lighting features a rounded opal acrylic shade and rectangular wallplate. A central die cast metal band and similar endcaps give the shade definition as it offers widespread illumination ...